Kanop Ketchart, Mayor of Nakhon Si Thammarat, granted the Global Cities Hub an interview, following his participation at the 3rd Forum of Mayors (2-3 October 2023, Geneva).
Read about the Mayor's perspective on the international engagement of his city.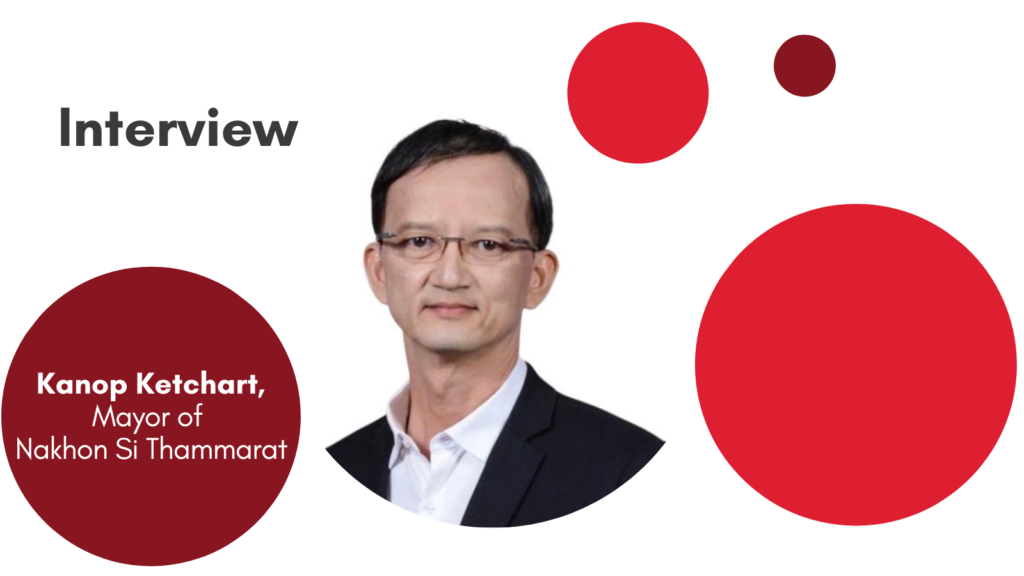 What will you bring back home from your experience in Geneva?
Having the chance to visit Geneva provided me with valuable experiences, particularly about the city management of Geneva, especially in terms of walkable city. The visit also provided the opportunity to build strong international relationships between the United Nations, Global Cities Hub and mayors from around the world. This will facilitate the expension of knowledge in terms of international policy and its implementation.
As Mayor of Nakhon Si Thammarat, what is your main goal in terms of international cooperation?
As Mayor of Nakhon Si Thammarat, I enthusiastically strive to promote the city of Nakhon Si Thammarat as a cultural and tourist hub to attract visitors to our city. I'm also trying to get the message across that smart city is all about people collaboration, appropriate technology and suitable budget allocation.
Our smart city projects are:
A Smart City Mobile Application, counting 60,000 residents and volunteers as members
An Innovative Flood Control, using the Smart City Mobile Application
Metaverse Classrooms in 10 city schools, counting 11,000 students ranging from kindergarten to high school
A Hospital on Wheels, providing medical services to the doorstep of city residents
A Virtual Craft Market, ensuring equal digital opportunities to local vendors.
What are the priorities for Nakhon Si Thammarat that are also addressed at the international level?
The priority of the City of Nakhon Si Thammarat is the cooperation between cities at the international level on the topics of tourism, education, and smart city projects. The city is also determined to move towards the United Nations's Sustainable Development Goals (SDGs).
What kind of benefits does Nakhon Si Thammarat draw from your engagement at the international level?
Being a member of international communities, the City of Nakhon Si Thammarat has not only received marvelous opportunities to learn about best practices in terms of urban development, it has also built fruitful relationships with other cities.
Nakhon Si Thammarat City Municipality participated in the conferences held by the United Cities and Local Government (UCLG), UN-ESCAP, US-ASEAN Smart Cities Partnership (USASCP), and Busan IT Industry Promotion Agency (BIPA). These engagements at the international level have brought many benefits to the City of Nakhon Si Thammarat, including the chance to build international relationships, gain knowledge and capacity building, which led to the publication of a baseline report named "Closing the Loop" and a VLR Report: "Voluntary Local Review 2022: The Implementation of the UN Sustainable Development Goals in Nakhon Si Thammarat City Municipality". International engagements also led to international investments from South Korea, Japan and foreign companies such as Honeywell and Fortinet from the United States.
Is Nakhon Si Thammarat a member of international city networks? If yes, what do you value, most in these memberships?
The City of Nakhon Si Thammarat is a member of several global networks including US-ASEAN Smart Cities Partnership (USASCP), Korea Smart City Association, International Smart Cities Network (ISCN and GIZ), and the one we value the most: UN-ESCAP Asia Pacific Mayors Academy.

At the UN-ESCAP Asia Pacific Mayors Academy, I learned a great deal about city planning, green city, smart city, finance, and international collaborations to help the city develop towards the SDG. Most of all, I had a great time listening to city leaders in our class share stories about how to serve the people and how to optimize limited resources to build a sustainable city for our next generation.
Does your national government consult you on any international issue?
The City of Nakhon Si Thammarat works closely with the Digital Economy Promotion Agency (DEPA) of the Ministry of Digital Economy and Society of Thailand on smart city development. This has led to broader connections with international cities, including Busan and Daejeon in South Korea, San Francisco in the United States and Fukuoka City in Japan.